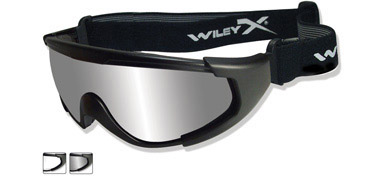 Fits Faces: M - L
Includes the following: Smoke / Clear Lenses, Hard Case for Storage, Elastic Strap, TempleArm Tips (for sunglass conversion), Side Shields for Peripheral Protection.
Whether you need protection for urban warfare, sun, dust, wind or snow, these goggles were designed for the modern soldier. Modular systems provide perfect, unobstructed vision in both land and air operations, yet convert into a stylish sunglass for downtime.
Streamlined design cuts through wind securely, making it excellent for jumping.
Designed to be worn with NVG. Strap fits under helmet.
Meets ANSI Z87.1-2003 high velocity safety and MIL-PRF-31013 Vo Ballistic Standards.