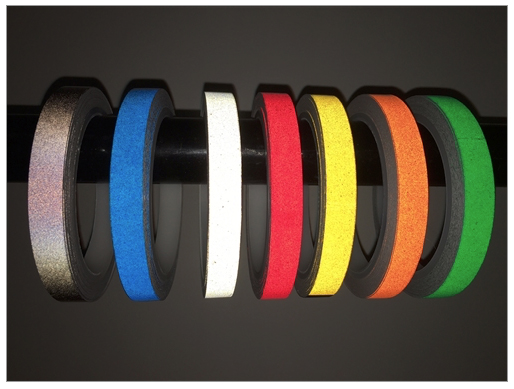 What is The Glow?
The Glow is a flexible, adhesive, vinyl that illuminates and glows through any light source. No wires or batteries required. Just apply one of the 7 colors, add light, and you're good to Glow.
Is The Glow safe for any surface?
Unlike other reflective vinyl or materials that can damage your paint, The Glow is safe and removable from any surface. The Glow's luminescent pixels are pressed in between a white vinyl and a clear coat layer, so they are kept from bleeding through and damaging the surface under the vinyl. Don't be fooled by lesser brands that don't have The Glow's impressive design. When pixel bleeding occurs, the adhesive will dissolve into any surface it touches causing damage to paint, clear-coat, powder-coat, and any other surface it touches. Feel safe and be safe with The Glow.
Is The Glow bendable and flexible?
Most common types of reflective material are based over a metallic layer that won't allow you to do shapes or rounded surfaces. The Glow is not. The Glow is extremely flexible and bendable, and will not crack or rip when you are doing hard turns or sharp corners.
How do I apply The Glow and how long does it last?
Make sure to thoroughly clean and dry the area where The Glow will be applied. Once clean, simply peel off the back and apply the adhesive vinyl to the desired area. When doing rounds or corners, it works best to work the vinyl slowly with your thumb as you go. Take your time and have fun with it. If installed correctly, The Glow can last up to 7 years.
In what sizes is The Glow available?
The Glow comes in 3 standard, prepackaged widths:
1/4inch (6.35mm) wide x 30 feet in length
1/2inch (12.7mm) wide x 30 feet in length
3/4inch (19.05mm) wide x 30 feet in length
For example: To do a 17 inch rim tape job on all 4 sides of a motorcycle, it takes 17.8084 feet. We give you 30 feet on each roll.
Can you do custom shapes or designs?
You want the Ducati logo, or the Triumph logo? Or how about, your motorcycle clubs custom logo? We can do that. The good people at Tire Penz have the equipment to pretty much cut out any shape, design, or decal to your specifications. Just contact us through the website for a custom quote.