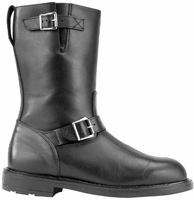 50's style meets modern technology in this weather-resistant, engineer style boot with rustproof, nickel-plated hardware. This Classic Boot is good for high arches, and the adjustable strap helps you get a perfect fit.

• 100% Made in America by an ISO 9000 manufacturing process.

• Waterproof guarantee with proper care and recommended boot dressing
• Ride and walk for hours of comfort and stability. No need to carry additional foot wear.

• Stylish and functional ankle buckle and upper buckle- Adjustable

• Two expandable gussets for an easy fit

• Kevlar fabric sewn into the heel section of each boot to provides additional protection for you ankle.

• High quality Yukon Gold leather provides durability and comfort. Natural leather breathes, giving you many years of riding comfort and a molded fit,
in all weather conditions.

• TPU Outsoles are the highest quality outsoles, maximizing durability, traction and oil/chemical resistance. Bi-Fit mid-soles provide superior one piece arch support for maximum comfort and flexibility without compromising structural integrity of the foot bed

• Our exclusively cemented outsole allows the boots to be resoled, ensuring a long lasting boot for years of molded comfort to your feet. This feature increases the life of the boot and significantly reduces your annual footwear costs.